Please keep in mind that you can cancel burn-redeem event anytime by following these steps and before do that, make sure that you connect your crypto wallet to your store.
Step 1: Accessing the Cancel Event Option
On the Burn-Redeem Event Detail Screen, look for the "Action" button and choose "Cancel event"
Step 2: Confirming Event Cancellation
After selecting "Cancel Event," a pop-up window labeled "Cancel Burn-Redeem Event" will appear.
Inside the pop-up, click the "Confirm" button.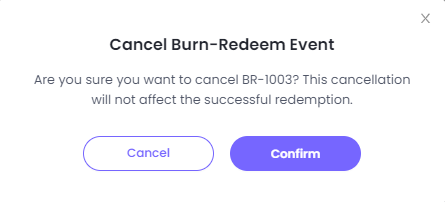 Step 4: Authorizing Wallet
Following the confirmation of event cancellation, you will be directed to the "Authorize Wallet" screen
Step 5: Confirming transaction
On the "Authorize Wallet" screen, you may notice a loading icon as your wallet is authorized.
After your wallet is successfully authorized, you will be redirected to the "Confirm Gas Fee" screen
Upon successful confirmation of the transaction (or if you choose not to use MetaMask), you will be taken back to the Burn-Redeem Event Detail Screen, the event status will be changed to "Cancelled."