Your domain name is an important part of your brand and clarifies the relationship forged between store owners and buyers.
Once you registered to open a store on NFTify, you can choose your NFTify subdomain.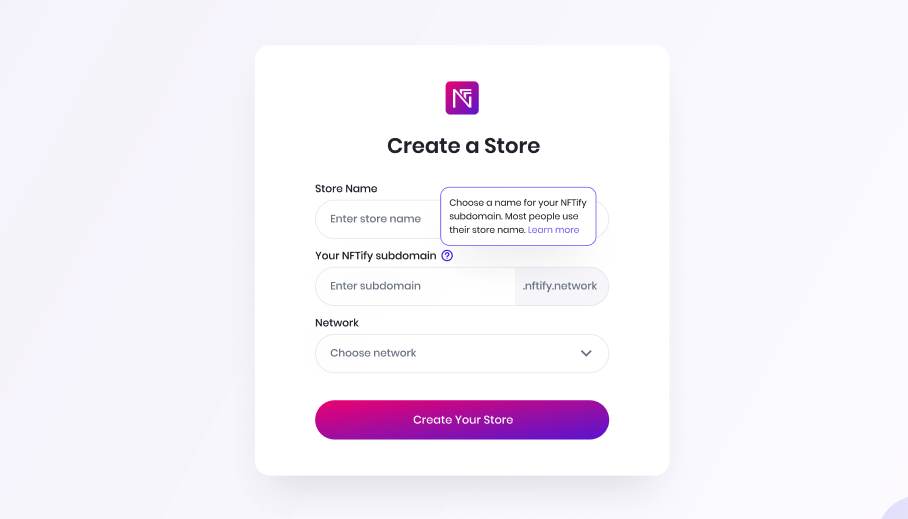 It becomes the domain that your customers see in their browser, in search results, and on social media, and you can not change or remove this domain.


1. View Domains Setting
To view domains setting page:
From Store Admin site, select Appearance --> Domains on the left menu.
You can view all Domain Names that you've already connected here.

Note: If a domain's status is Processing, it cannot work yet. A domain can work only when its status is Active.
2. Connect your third-party domain to NFTify
After you purchase a domain from a third-party domain provider, such as GoDaddy, Google Domains, Namecheap, and many others, you need to connect your domain to your NFTify store. Connecting your domain points your URL to your NFTify store so that customers can enter that URL into their web browser to visit your online NFT store.
To complete this procedure, you need to have the information as follows:
Your login information for your third-party domain provider account
The NFTify IP address: 18.139.37.132
2.1. Change your DNS records in your third-party domain provider account
Step 1: On your domain provider's website, log in to your account.
Step 2: Find the DNS settings or domain management area.
Step 3: Point the A record to the NFTify IP address. Save your changes.
2.2. Connect your domain to NFTify
Step 1: Click on Add Domain button. An Add Existing Domain pop-up will be displayed.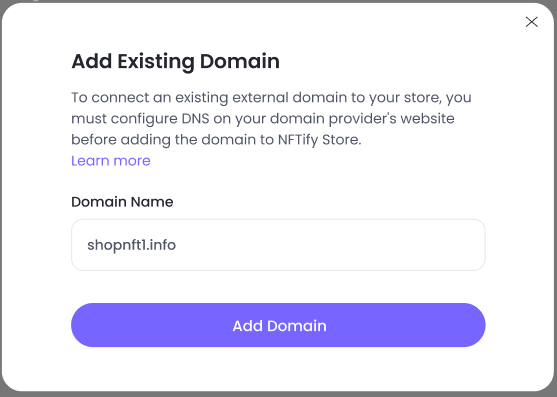 Step 2: Enter your domain and then click on Verify Connection button. Make sure that you entered the correct A Record in the domain provider website
It might take up to 72 hours for your domain to be connected. If you have any problems, please contact our support team!
3. Edit NFTify Domain
NFTify allows you to edit your initial domain by:
Step 1: Click on Edit at Action Column
Step 2: Update your domain and click on Save Changes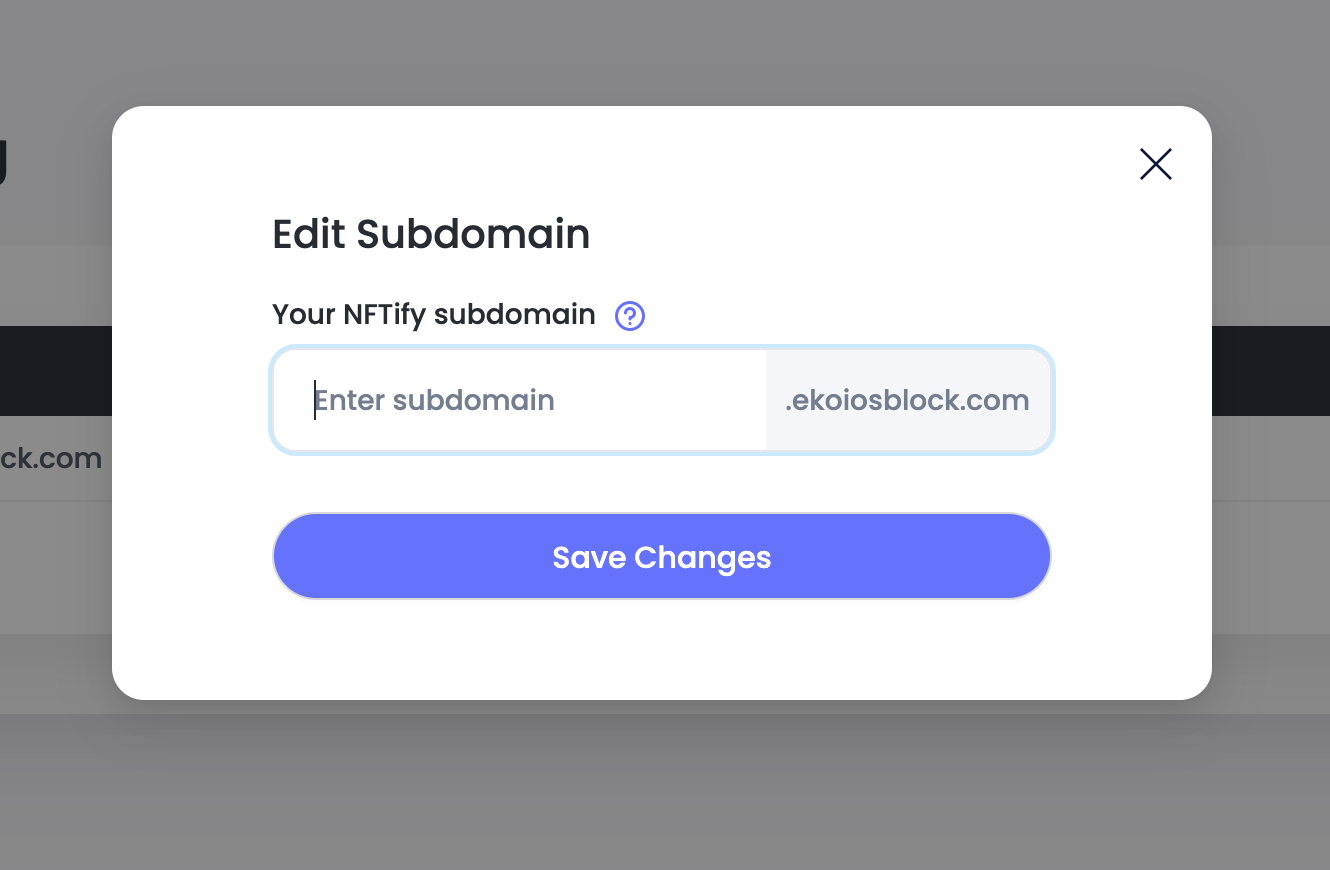 4. Remove your third-party domain
Step 1: Click on Remove at Action Column
Step 2: Remove domain pop-up will appear, please click on Confirm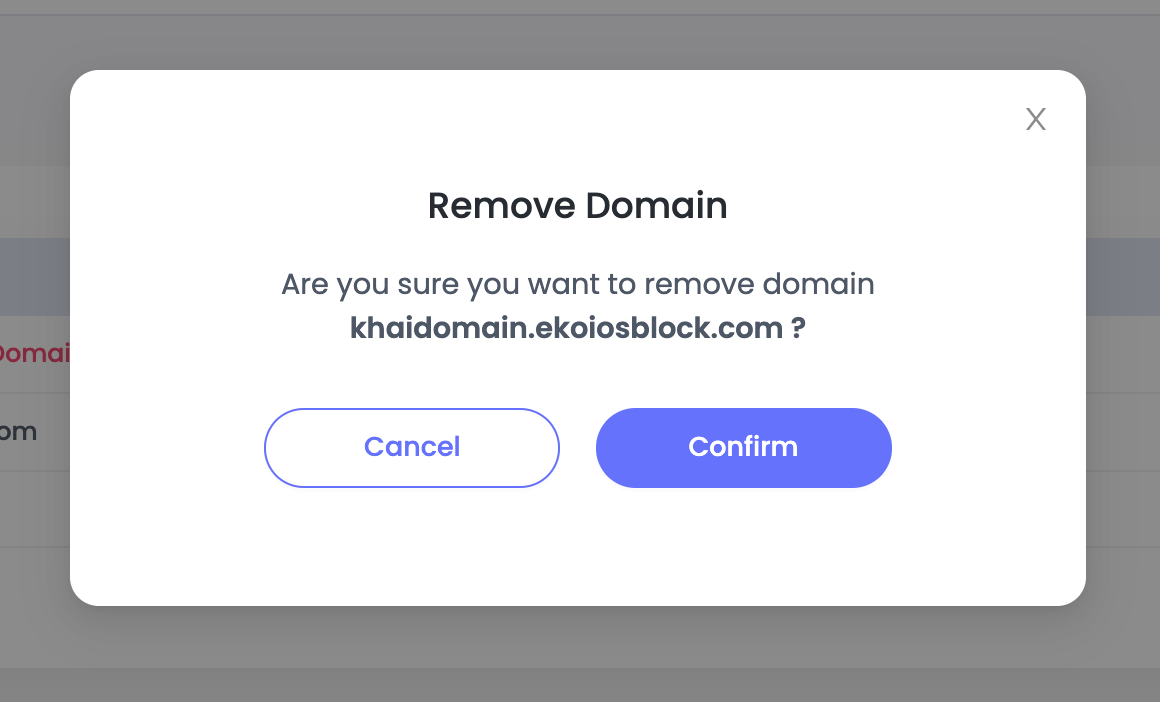 5. Set primary domain
Primary domain will be displayed on search engines (Google, NFTify Directory). When you access other domains, it will be redirected to the primary domain
When the store is newly created, the primary domain will be default as NFTify domain. However, you can set another domain as your primary domain.
To set primary domain:
Step 1: From Store Admin site, select Appearance --> Domains. Domain Setting Screen will be displayed. Let's click on Change Primary Domain text link

Step 2: Set Primary Domain pop-up will be presented, you can select a new primary domain and click Save Changes button